Choose AirBena Large Ceiling Fans and Electric Fan
Views: 3 Author: Site Editor Publish Time: 2022-07-07 Origin: Site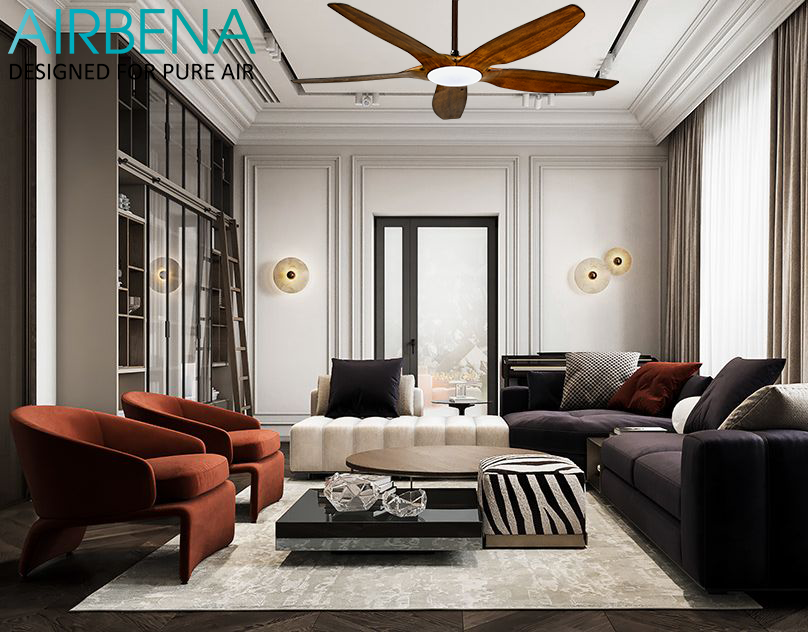 If you have a room that is four hundred square feet or larger, you will need a large ceiling fan. For these rooms, you can find fans with heights of at least 48 inches. A 52-inch ceiling fan, for example, has a transitional design and a rustic blades. It also comes in a bronze finish, which is great for rooms with coastal or farmhouse themes. White and Polished Nickel fans are also beautiful choices for rooms with bright, traditional themes.
If you'd like a fan that can be used in both indoor and outdoor areas, the AirBena ceiling fans is a great option. With a smoky iron finish, this fan is both outdoor and indoor-rated, and it includes six fan speeds and a 20-watt LED light hub.
Choose the right height. Most Large Ceiling Fans do not come with adjustable downrods. The lowest safe hanging height for a fan is seven feet above the floor. Therefore, make sure you choose the correct height for your ceiling fan before purchasing one. You should also look for downrods that are longer than six inches. This will allow you to adjust them to the height you want them to be. This way, you can hang them lower than the normal height.
Whether you're decorating a contemporary room or a traditional one, large ceiling fans are an excellent option. You can find several different styles to fit any style and decor. You can create a more traditional aesthetic with oversized fans with rounded wooden blades and bowl-style lights.
Alternatively, you can go for a contemporary look with large fans featuring brushed nickel finishes and cased white glass. Once you've made the right choice for your space, you can start choosing the right style of large ceiling fan for the room.
What Are the Basic Parts of an Electric Fan? The Electric Fan uses an AC power supply to rotate the blades. The AC power is delivered first to the capacitor that stores high energy. This capacitor then distributes that energy to the stator windings, which form a rotating magnetic field. This magnetic field forces the rotor to rotate, thus converting electrical energy into mechanical energy. The rotor is made up of two or more permanent magnets and is attached to the housing.
The amount of air that an electrical fan can move through a radiator is measured in cubic feet per minute. To match this rating, an electrical fan must have enough airflow to cool your radiator. In addition to the cooling capacity, the fan should be quiet enough to prevent acoustic feedback. If your cooling capacity is less than 100 cfm, you should opt for a smaller electric fan with a lower RPM.
The electric fan market is expected to experience significant growth during the forecast period, owing to the rapid advancement in technology. However, increasing costs of raw materials and labor are anticipated to restrain the global market growth. However, the rapid changes in the climate will continue to fuel demand for electric fans. A global Electric Fan market report will outline the latest market trends and assess opportunities for vendors. There are many factors to consider when purchasing an Electric Fan. If you're considering buying an electric fan, this is a good time to start.